The life of Helena Snakenborg was unique and certainly unusual even by Tudor standards.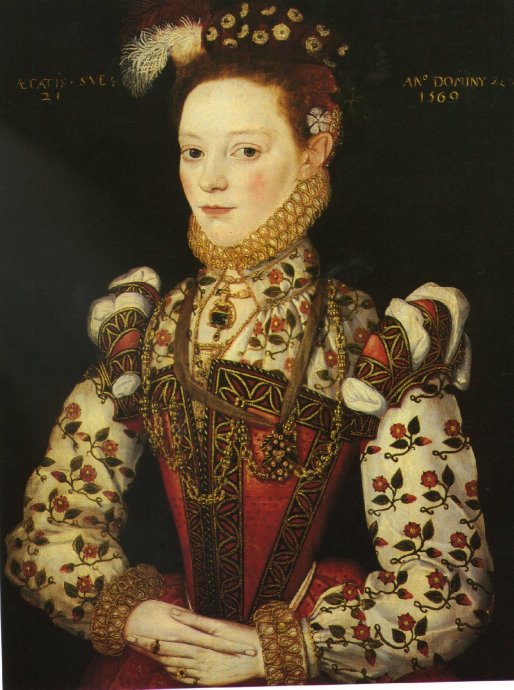 Helena Snakenborg
Helena was born Elin Ulfsdotter Snakenborg in 1548 in Sweden to aristocratic parents - an heiress and a senator - with royal ancestry.
Due to her noble position, Helena was chosen in 1564 to travel to England with Princess Cecilia of Sweden as a celebration of her recent marriage, the journey took nearly a year and the party did not arrive in England until September 1565.
The royal party was met at Dover by Sir William Parr (1513-1571), the brother of Henry VIII's last queen Katherine Parr. William Parr took an immediate liking to young Helena and courted her with expensive gifts; his long time beloved mistress Elizabeth Brooke had recently died and Helena was reported to remind him of her.
Princess Cecilia spent a year in England, living lavishly and running up great debts before fleeing her creditors and the country, in April 1566. However Helena did not accompany her; she had grown to love England, William Parr and Queen Elizabeth. In a rare occurance Queen Elizabeth officially requested that Helena stay in England and join her household - it was rare that a lady in waiting was 'stolen' from one monarch by another, however Helena was fiercly loyal in temperament, something which Elizabeth admired and she was of high rank and yet not a threat to Elizabeth's throne. Helena was known for her inability to be bribed or to have information on the queen wrangled out of her.
William Parr, Marquis of Northampton
Her life in England was furthur strengthened in 1571. William Parr was long divorced from his first wife Anne Bourchier, but the Church of England did not recognise the legitimacy of subsequent marriages, therefore William Parr did not marry Helena until after the death of his previous wife in January 1571. Helena was married to William Parr in May 1571 at Whitehall Palace with the queen in attendance. Sadly, their happiness was short lived as William Parr died on the 28th of October that same year. Helena was now a wealthy young widow, with a title, and came to be known by the name 'Good Lady Marquess'. Helena was now a Maid of Honour at the English court, and would later be promoted to Gentlewoman of the Privy Chamber, she was also given her own lodgings at Hampton Court Palace which were paid for by the queen.
Thomas Gorges
Helena, now widowed and the third senior woman at court, then found herself another love interest; Thomas Gorges. The Gorges family were related to Queen Elizabeth through her mother Anne Boleyn's Howard family; Anne Boleyn was the great-granddaughter of John Howard Duke of Norfolk through his son Thomas, who was the father of Elizabeth Boleyn (nee Howard), while it was John Howard's daughter Anne who married into the Gorges family.
The Gorges family were an ancient family in England descended from the Russell family whose son adopted the name and arms of his Gorges mother instead of his Russell father, and were originally from Gorges, a town in France.
Edmund Gorges and Anne Howard, Wraxall Church
However despite this familial connection, Thomas Gorges held no title and was simply a groom of the Privy Chamber who had been born a fifth son in Wraxall, Somerset. The queen had at first supported the two as a couple, however when they requested permission to marry they were denied, perhaps due to Thomas' much lower status. In the face of the queen's refusal to let them marry, they did so anyway in secret in 1576. When the queen discovered this, Helena was exiled and Thomas was sent to the Tower of London. After being sent from court Helena wrote to the queen begging for forgiveness for herself 'a poure, desolat, and banished creture'. These punishments lasted only a short time and the couple were both soon back enjoying royal favour, with the queen becoming godmother to their eldest child and also sent a gift of a silver gilt bowl at the christening.
The couple had eight children together;
1) Elizabeth Gorges (1578-1659) m. (1) Hugh Smythe (2) Ferdinando Gorges
2) Francis Gorges (1579-1599)
3) Edward Gorges (1582-1652) m. Catherine Osborne
4) Theobald Gorges (1583-1648) m. Anne Pole
5) Bridget Gorges (1584-1634) m. Robert Phillips
6) Robert Gorges (1588-1648) m. Mary Harding
7) Frances Gorges (1589-1649) m. Thomas Tyringham
8) Thomas Gorges (1589-1637) m. Margaret Mogge

In 1582 Thomas traveled to Sweden as an envoy, where he met his wife's family for the first time. Helena maintained written correspondence with her family and friends back in Sweden for the rest of her life.
In 1584 the queen granted them an estate at Sheen, which was a former monastery and very close to the queen's residence at Richmond, which enabled the couple to be present at court to serve her majesty but also live with their children.
Thomas was knighted in 1586, as was four of his sons; his son Edward was also made Baron of Dundalk however this title became extinct in 1712.
Thomas Gorges had been the owner of Longford Castle since 1573, however it was in a terrible condition and needed a complete rebuild - which Helena convinced him to do in 1591. This castle and its grounds became one of a kind ever seen in England, due to Helena and her influence. The estate became built as a triangular Swedish pattern castle; triangular in shape with a round tower in each corner. The cost of the building was so extensive that the couple had to ask for help; Thomas was the governor of Hurst Castle where one of the ships from the Spanish Armada had been driven aground, the asked the queen if they could be granted the wreck and the request was granted. Fortunately, this ship contained Spanish silver and gold which the couple then used to complete the estate.
Longford Castle, Wiltshire
Helena was the chief mourner at Queen Elizabeth's funeral in 1603. And later both of the Gorges were present at the coronation of the new King James. After Queen Elizabeth died the couple moved out of London to their estates, however Helena would be at court several times when relations with Sweden were necessary, such as the marriage negotiations for James' daughter with a prince of Sweden. The couple were also named Keeper of the Palace at Sheen, where their London house was, as well as Keeper of the Wardrobe at Richmond, Keeper of the Gardens at Richmond Park, as well as being given an allowance of £245 per year.
Thomas Gorges died in 1610, after which Helena retired from court life completely, spending all of her time with her children and her ever growing number of grandchildren who were mostly living in Somerset; at the time of her death she had no fewer than ninety two descendants - including the poet Arthur Gorges and Ferdinando Gorges the founder of Maine, USA.
Helena died on the 10th of April 1635 in Somerset at her son Robert's home. She was then buried with her husband at Salisbury Cathedral. Helena's life story could not have been predicted - that she would remain in England, that she would fall in love with Thomas Gorges or that she would be the plunderer of Spanish treasure - yet she achieved a great deal in her lifetime and left her mark on the world.
Tomb of Thomas and Helena Gorges, Salisbury Cathedral